Hallfield School Speech and Prize Giving Day 2023
Category
#Special Feature
Hallfield School Speech and Prize Giving Day took place on Tuesday 27 June 2023 at The Great Hall – University of Birmingham.
A celebration of achievements
The occasion brings together the school and parent body to celebrate the achievements of our Year 2, 6 and 8 children as they voyage on to their next stage of school life. The occasion also marks the end of the academic year bringing it to a jubilant end as we all say goodbye for the Summer or longer for those who move on to new schools at the end of Year 6 and Year 8.
Guest of honour
This year our guest of honour was Strictly Come Dancing professional Amy Dowden.
Amy started her dancing career at the age of 8. In 2017, with dance partner and now husband, Ben Jones she became British National Latin Dance Champion, and they were the first all-British pair to win the championships in over 30 years.
She is a passionate campaigner for Crohn's disease having suffered since she was a child. She raised awareness and touched the hearts of many in her documentary Strictly Amy: Crohn's and Me, where she candidly documented her daily struggles with the disease, whilst inspiring everyone with her tenacity to not let it stand in the way of her dreams.
Hallfield has a longstanding and special relationship with Amy as she has taught hundreds of our pupils over the last decade by running an after school club through her dance school Art in Motion so it was about time we had her as a guest of honour at Speech and Prize Giving Day.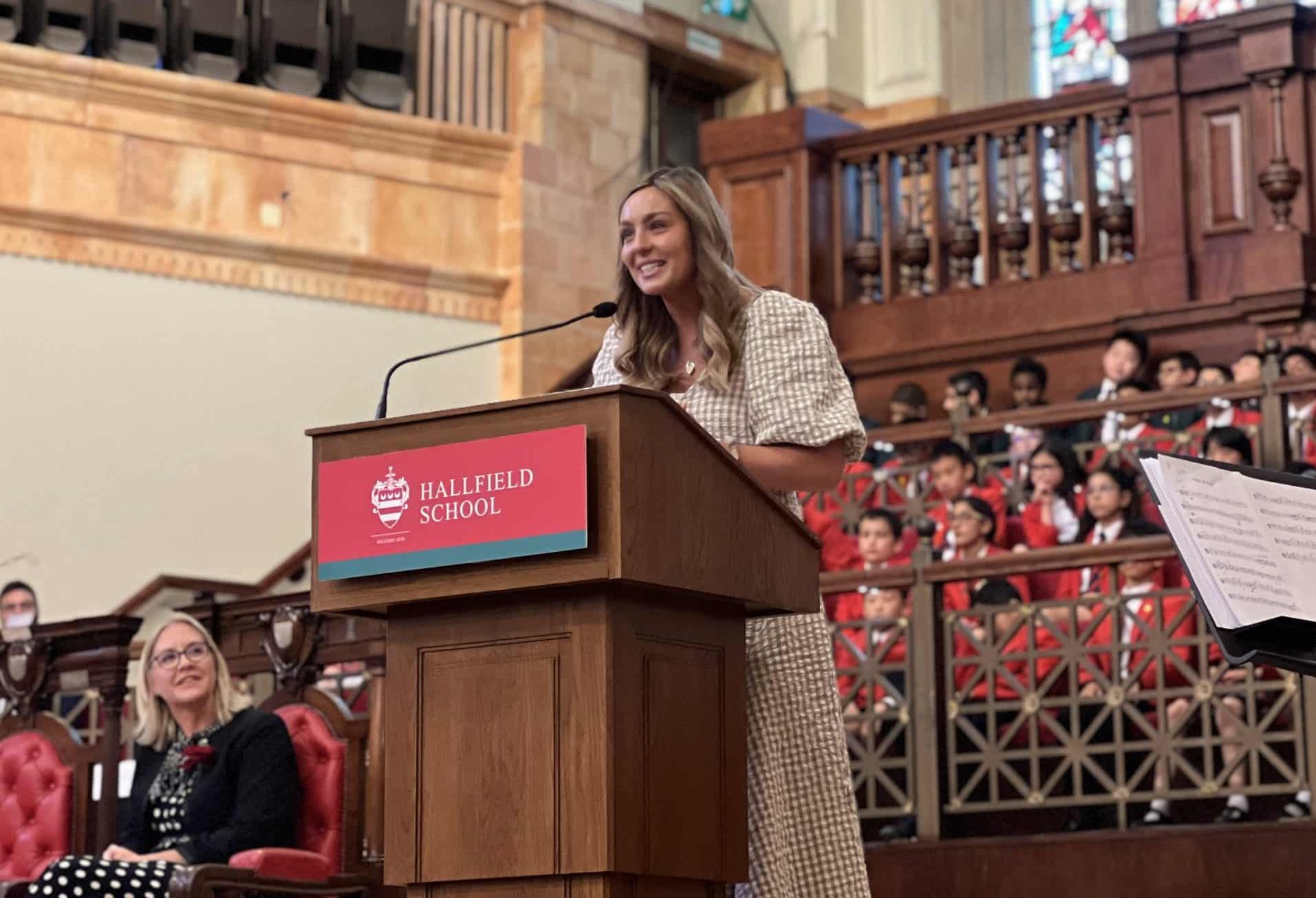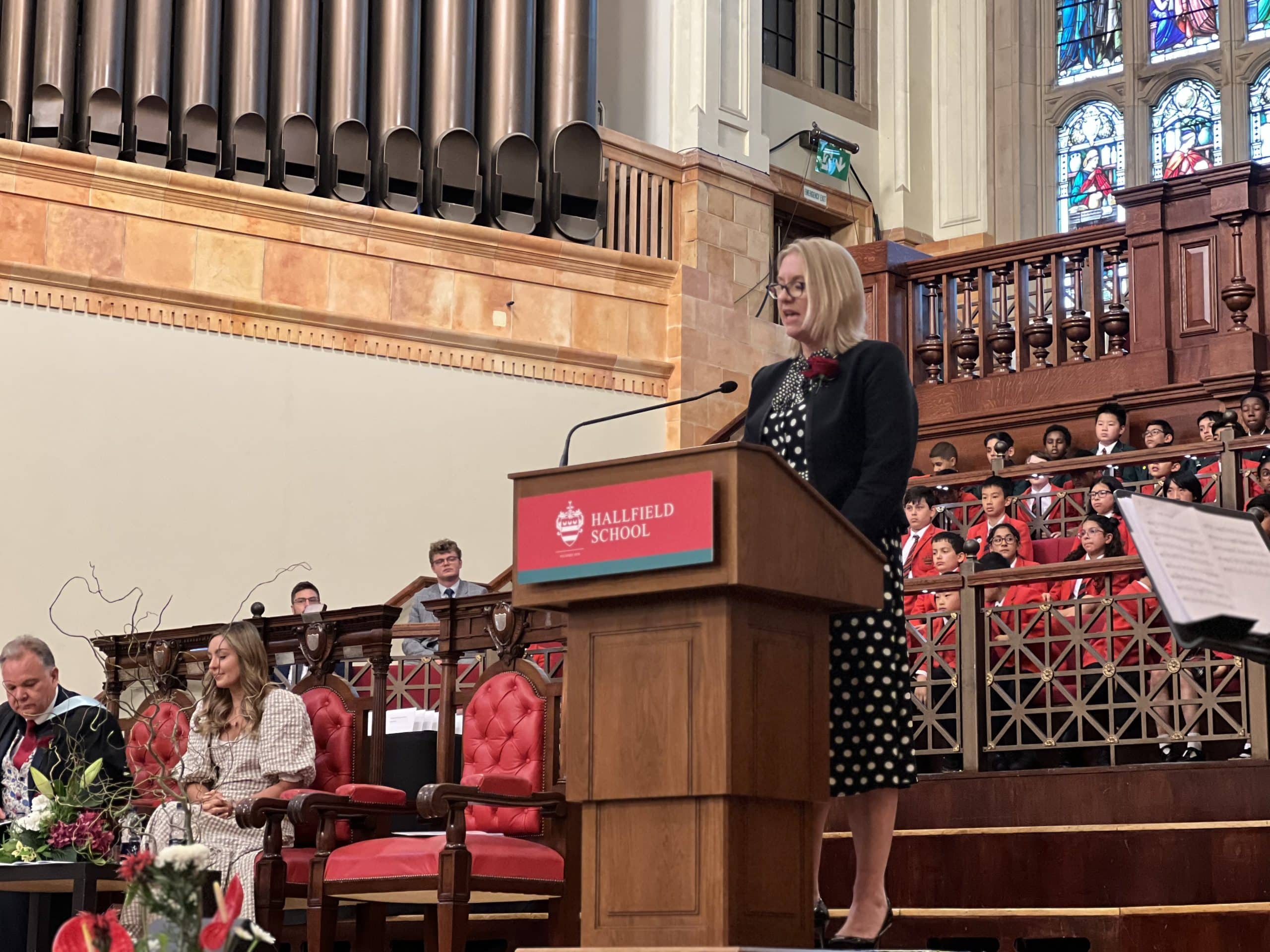 Let's twist again!
The event commenced with an array of uplifting songs such as Let's Twist Again and Ed Sheeran's Permission to Dance. The orchestra played with gusto whilst the children belted out their numbers setting the vibrant tone for the occasion.
It only seemed right that Head Master: Keith Morrow, Governor: Kirsty McEwen and Amy Dowden who led the event, made their way down the aisle to the Strictly Come Dancing theme tune.
Kirsty McEwen gave the opening speech, thanking the staff for all their work, especially in relation to the recent "Outstanding" grading by the Independent School Inspectorate.
Happy, inspiring, purposeful
Mr Morrow then delivered a poignant address, thematic of our school motto: Happy, Inspiring, Purposeful. He spoke of everything that was achieved, enjoyed, progressed and delivered within those pillars over the last year. Mr Morrow also looked to the year ahead and the exciting developments coming to Hallfield School, from the new state of the art classrooms and adventure playground for younger pupils, to the enhancements to our after-school provision to have more academic focus.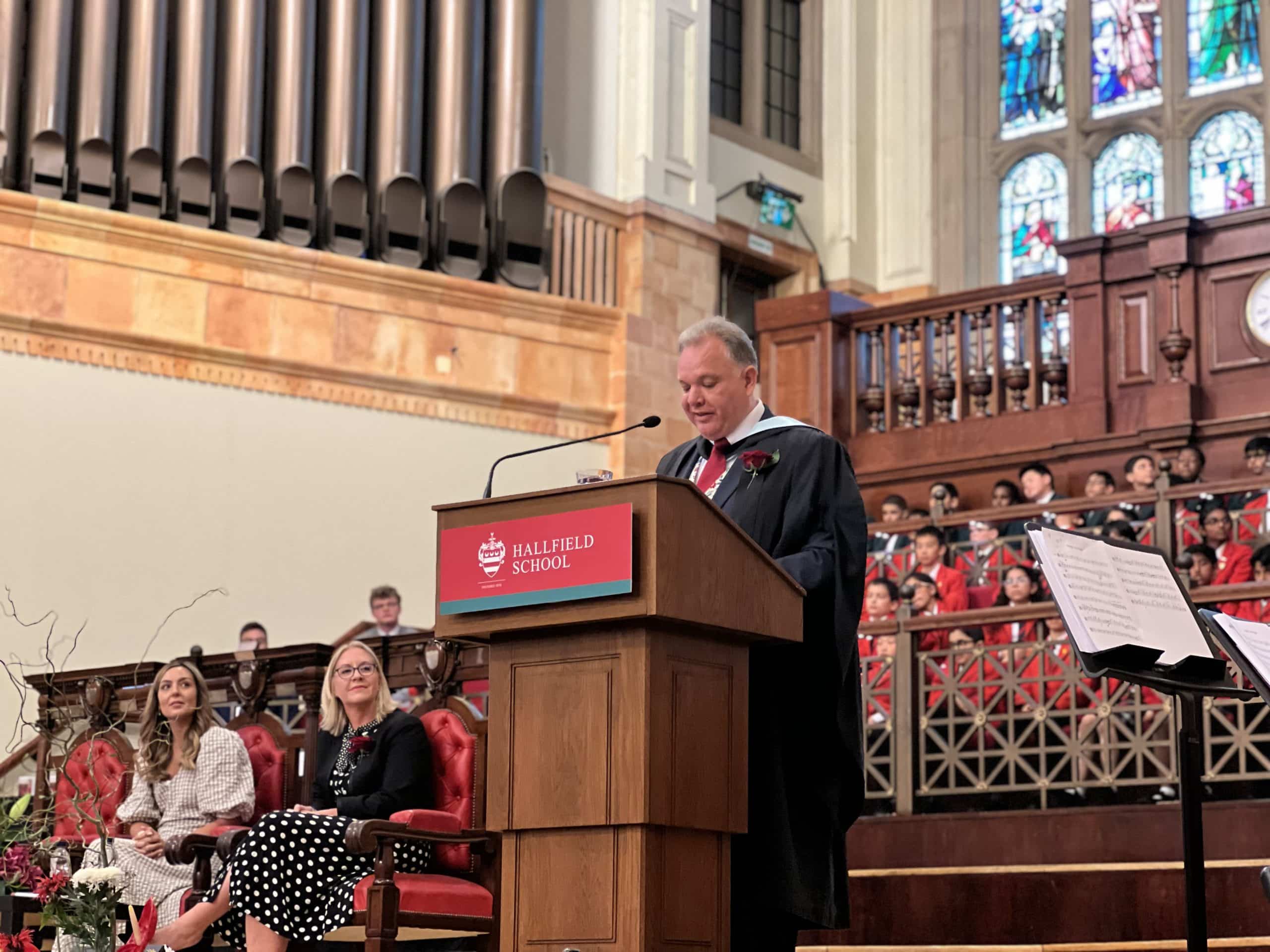 Head children speeches
Mr Morrow then passed over to our Head Boys and Girls who gave illustrious speeches about their time at Hallfield. From the responsibilities they fulfilled over the last year in their Head roles to personal memories of their time here.
You can read their speeches in full below.
At the end of their speeches the audience sat in anticipation as the new House Captains and Head Children were announced. Congratulations to all the children below: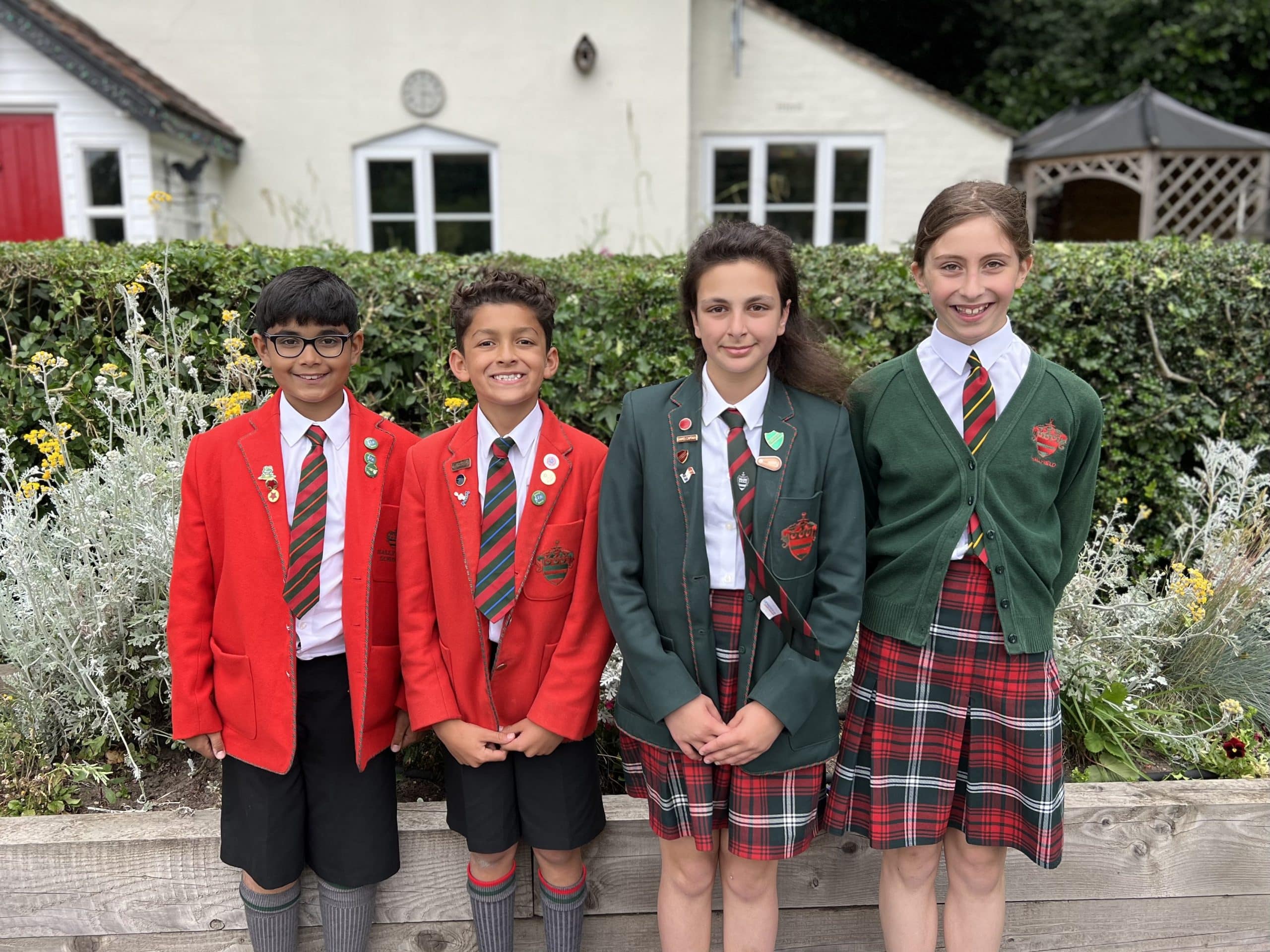 Head Children 2023 – 2024
Head Boy: Dhyan
Head Girl: Angie
Deputy Head Boy: Rocco
Deputy Head Girl: Lucilla
House Captains 2023 – 2024
Stork: Thomas
Ridgway: Marcus
Nowers: Ellen
Pughe: Siyona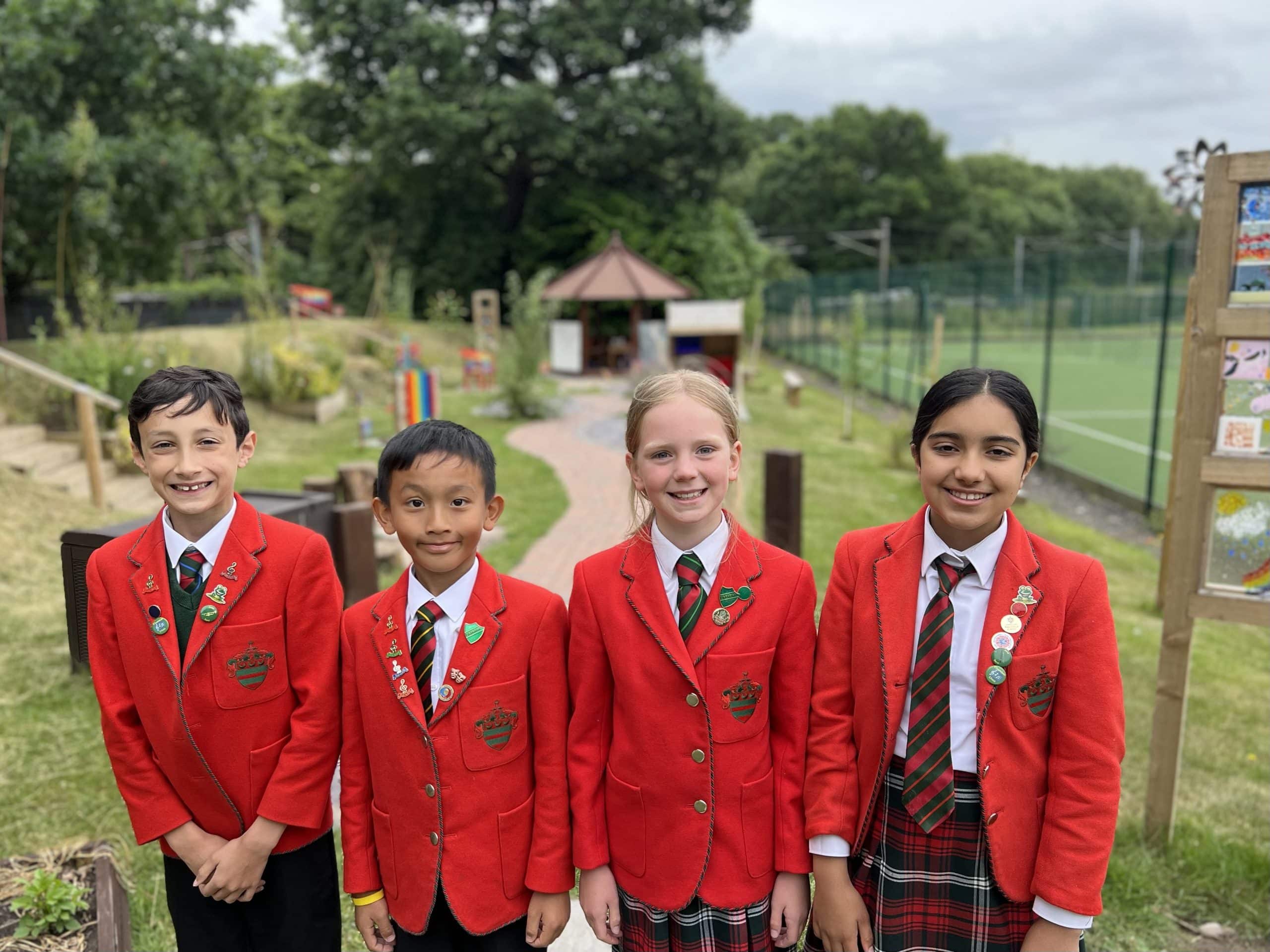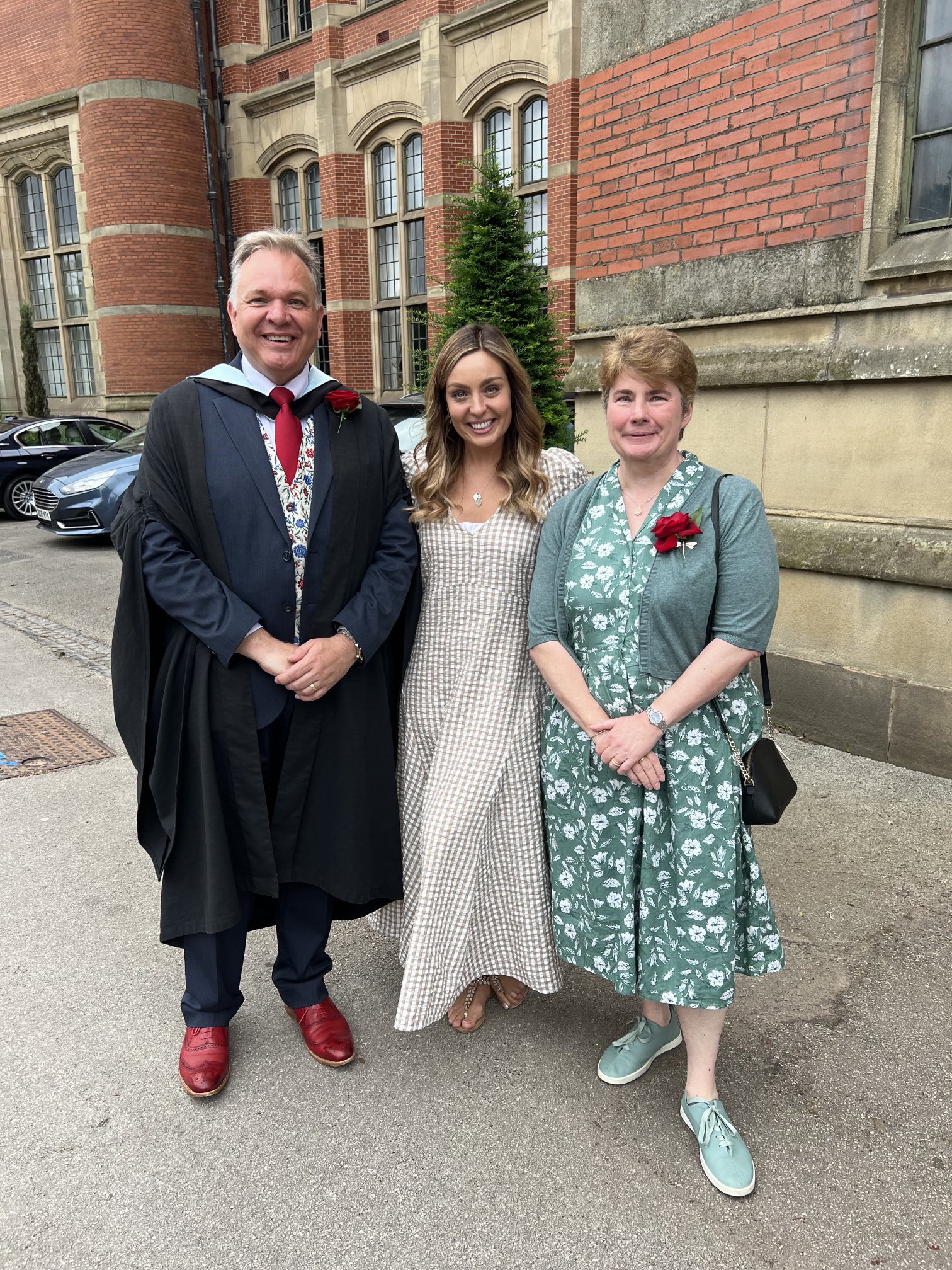 Amy Dowden: "Be better, not bitter"
Amy Dowden then took to the stage. She delivered a motivational speech that honed in on characteristics that have enabled her to achieve the highest successes as a dancer. An abundance of passion for what she does of course formed the foundation for her achievements but hard work, tenacity and determination to overcome adversity with her Crohn's disease and now breast cancer has led her to the glittering heights of Strictly Come Dancing and celebrity.
Amy also shared how her parents insisted she gets a good education under her belt and stay at school until she completes her a-levels. This made Amy work even harder at school as the reward was being able to continue with her dance lessons. Amy is grateful to her parents, as her hard work at school gave her a solid work ethic and academic security for life.
When success didn't go Amy's way she talked about how she turned to the motto "be better, not bitter" to help her put aside any negativity and move forward with the next project, the next competition, the next goal!
Everyone felt inspired, motivated and excited about the future – it was a perfect speech for a perfect day!
For more inspiring takeaways from Amy you can watch the full speech at the video below.
Recognising achievement
As the speeches came to a close it was time to move on to the prize giving. Children in Year 2, 6 and 8 from each form group were recognised for their effort in: Attainment (across the curriculum), All Round Effort, Exemplary Conduct, as well as all the different subjects within their curriculum.
There were a number of special awards too, such as the Kathryn Cartwright Community Spirit Award. This recognises a pupil that demonstrates community spirit and support for others and good causes. This went to Japmeh Gujral. The Head Master Award for an all-round outstanding contribution went to Aaryan. The All Day Cup goes to a boy who shows good sportsmanship and that was award to Zain. And finally, the Derry Bowl which is awarded to a girl for good Sportsmanship went to Hiba.
It was a wonderful celebration to end another successful year at Hallfield School.