Head Master Keynote, Speech and Prize Giving 2023
Category
#Special Feature #Events
Children, parents, families, friends, distinguished guests and governors, I am delighted to welcome you all to Hallfield School's Speech and Prize Giving Day, 2023.
Last year was the very first whole school 'in person' Speech Day here in the University of Birmingham's Great Hall, and it went down so well, we're back for another! And it's good to see so many of you are too.
Firstly, I must say a HUGE thank you to the children for their wonderful singing this morning and to the staff orchestra and their conductor, Mrs Edgar. Well done! You may have noticed a certain theme going on with the choice of songs!
Last year we had Canadian Astronaut, Dr Robert Thirsk, as our guest speaker. He was literally out of this world! So how do we top that? Well simply by putting our feet firmly down on terra firma, and those feet couldn't belong to a more inspirational and accomplished dancer than Ms Amy Dowden, who is our special guest for this Speech Day, star from Strictly Come Dancing. Welcome Amy, it's wonderful to have you here. But more from Amy later.
Happiness. "Children are happy and active in their learning". That's no opinion or line written by me; that's a line taken directly from our recent nursery ISI report.
The personal development of children, the behaviour and attitudes of children…is Outstanding.
I think we can all agree that we've achieved that outcome by working together and striving each and every day to give our children the best possible start in life.
We have a new adventure playground being built for our younger pupils over the summer and the plans look "fab-U-lous". The children in Pre-Prep have been involved in designing and planning a pirate themed playground. You may wonder why? Well, that's just because they ARRRRR!
Across the year we've seen happiness pervade the school, from World Book Day to the Easter Bonnet Parade – and our numerous school trips contributing to our pupils' well-being and ensuring they leave Hallfield as well-rounded individuals. There are smiles everywhere, and a lot here today too.
We are INSPIRING.
We've had visits from an England international netballer, a former poet laureate, a Lord Mayor, musicians, even a Michelin Star chef! AND tomorrow evening Amy adds her name to the list of inspirational speakers at our highly acclaimed Hallfield Insights programme.
That's because our own young people get inspiration from life here at Hallfield, yes, but are also inspirational themselves. Only last week at our end of year concert, I drew inspiration from the wonderful playing and singing, especially the soloists.
We have also been lucky enough to have Hallfield parents inspire us, by giving up their time to present at careers talks to older pupils on a huge number of topics, ranging from ground-breaking medicine to a personal pilot who flies for the Royal family of Bahrain!
My huge thanks go to:
Mrs McLeod-Jones
Captain Hussain
Dr Saroy
Mr Gujral
Mr Graville
Major Mitchell
Dr Kotecha
Mrs Derrig
Mr Paul
Mrs Balfour
Mr Fearon
Mr Jiao
Dr Kinsella-Mitchell
Thank you ALL!
From our Head Boy and Head Girl Jama and Japmeh, to Heather and Hannah from Year 2 competing at the Dudley Festival of Music, Dance and Drama.
Hallfield pupils are not clones or stereotypes, they are truly dancing to their own tune…quite literally in Heather and Hannah's case.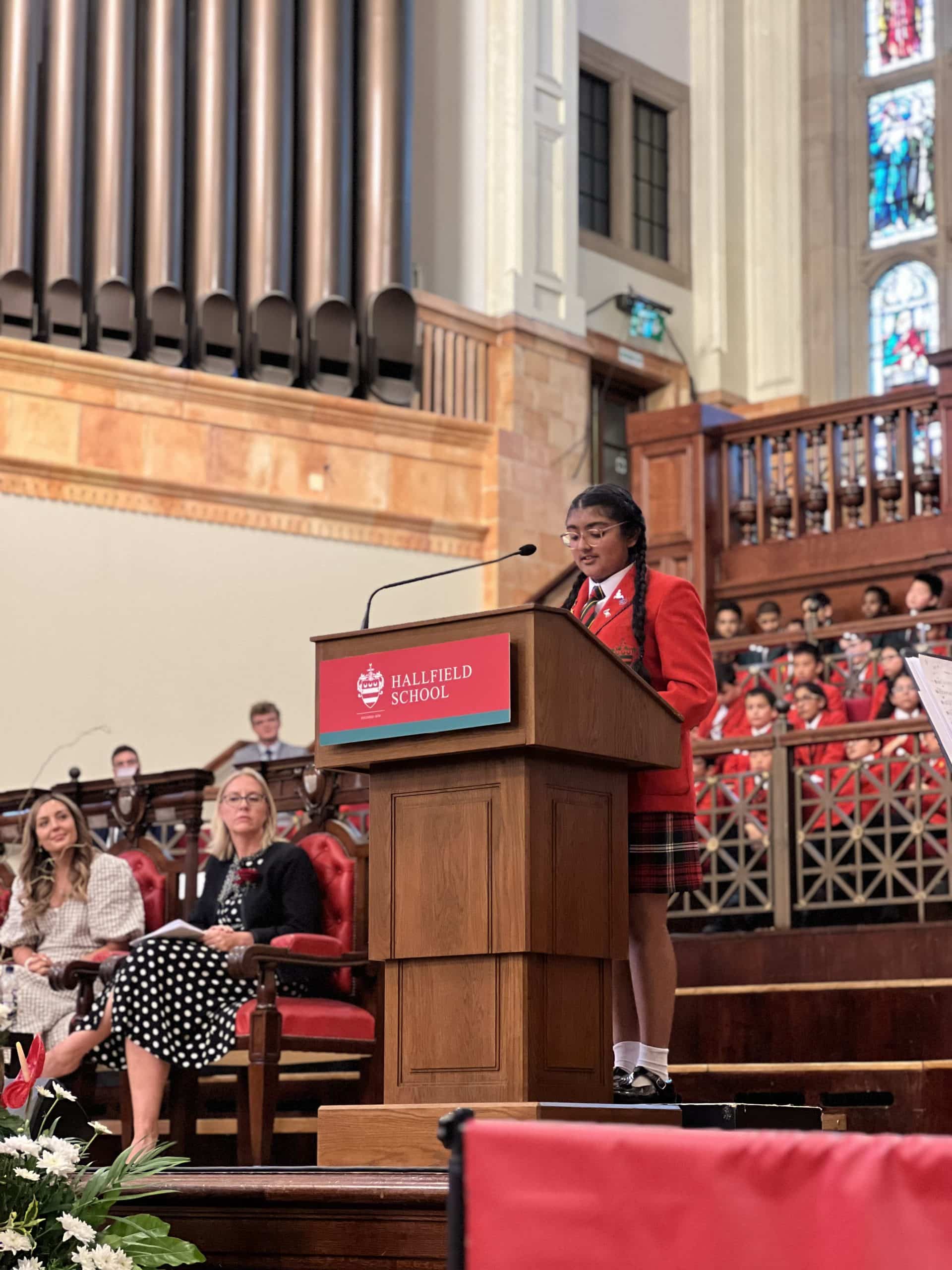 The school itself is INSPIRING.
We turn 150 in 2029 – no more comments on 'have I been here since the beginning' please! – and to commemorate that we are launching Project 150 in September.
To add to our fantastic new ICT facilities and podcasting studio, this Autumn we will commence the building of two new classrooms to open in April 2024, complete with a common room and breakout spaces.
Further on from that, we plan to build a new sports centre to open in 2026/27 and then convert our existing sports hall to a new theatre, all completed before our 150th birthday.
We aim to develop our facilities to be a fitting venue for the inspirational drama and sport that Hallfield nurtures. Inspiration forms part of our DNA at Hallfield.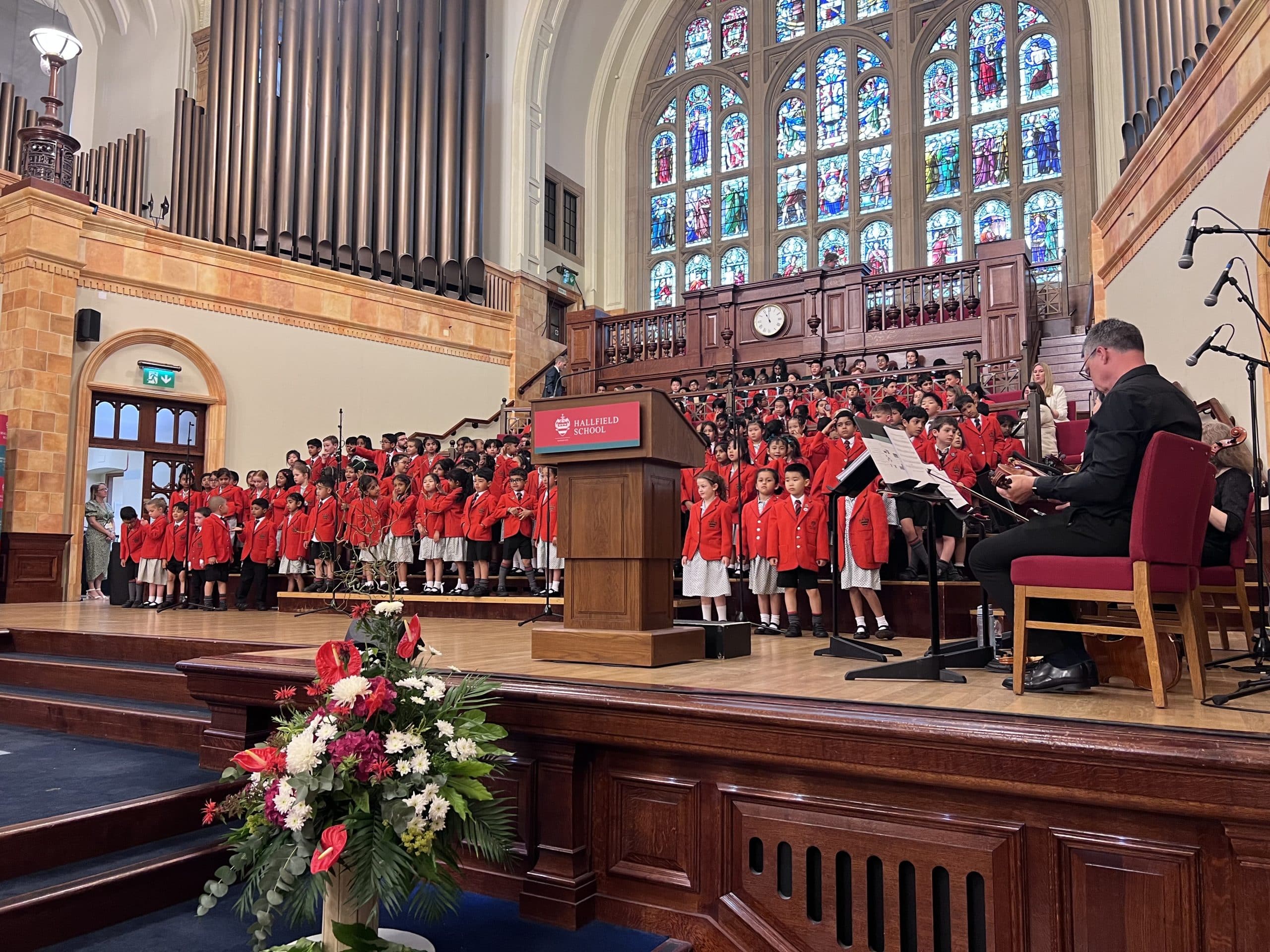 PURPOSE.
Let's be honest, there may be lots of times our pupils say they haven't done something on purpose, but the good thing is that a lot of the time, they do.
One thing we've done brilliantly is to raise money and awareness for a myriad of causes: Children In Need, the shoebox appeal for Ukraine, Guide Dogs for the Blind, Saif, Amaya and Haniya raised money for the Pakistan floods and Year 7 pupil Angie participated in the Great Birmingham Run single-handedly raising money for a hospital charity.
This is just a small list of the great, selfless things we've done as a community.
Furthermore, our PURPOSEFUL atmosphere will be heightened next year when we will have a more academic focus to our after-school provision to accentuate this calm and focused drive.
We have very strong academic results and the numbers don't lie: upwards of 50% of pupils are offered one or more scholarships in academia, music, sport, art and drama and a staggering 92% of pupils who sat the LA Grammar Schools examinations were offered places. Our guest speakers always reiterate the importance of 'soft skills' and yes this is something we nurture and promote extremely successfully, but we are also a school grounded in impressive academics and these young people will flourish here and beyond.
And the good news is: our learners are emboldened, enthused and energised by this. They are intelligent, switched on, focused but they are also resilient, great in a team, physically and mentally prepared for the modern world.
Great dancers are not great just because of their technique, they are great because of their passion, epitomised by our young people right here at Hallfield.
But what does the future hold for us all? There has been a lot of talk in recent months about artificial intelligence or AI, drones are more and more prevalent and programmes such as ChatGPT are being introduced to write things for us. And here's me stuck with a Nokia 3310 and Sony Walkman!
Yes children, you will learn all about what a cassette tape is in your history lessons!
So what skills do our children need to make them ready for a world advancing far quicker than ever before? Well I say we need to prove ourselves as a human race. Prove how special we are. We are here to constantly and consistently surprise and change the way we live. So YES! we have all the technology we could possibly need, but why walk, when you can dance.
Showcase your brilliance.
Showcase your uniqueness.
Showcase who. You. Are.
Regardless of any computer, the latest iPhone or even the greatest bit technology advancing and shaping the world today, I am confident that our current students and our leavers today will go on to AMAZE and make THEIR mark on our society.
I want to end by thanking all the staff and students here at Hallfield. You've been my dance partners and I've needed you hopefully as much as you have needed me.
I also want to thank the parents present today for their unwavering support for the school over the past academic year.
And finally, and especially, to our leavers: Year 6 and Year 8.
I have so many fond memories of you all and I wish you all the continued success and hope you achieve the very best in life. Do it BIG, do it RIGHT and do it in STYLE. Look back on your days at Hallfield with fondness and appreciation.
I wanted to end by repeating the message I told everyone last year: …We, as people, are lifelong learners. At our school curious young minds discover this on a daily basis. No matter what we do or achieve here, make sure you always go on to be even more inquisitive, more honest, humbler and never change who you are. Don't just dance, move the world.
Be HAPPY, INSPIRING AND BE PURPOSEFUL!
Keith B Morrow Head Master
June 2023