Year 3 and 4 wow in 'The Wizard of Oz'
This week, Prep Hall was transformed into a theatre with professional lighting and special effects, to host a Year 3 and 4 performance of 'The Wizard of Oz'.
Category
#Performing Arts
Pupils from Year 4 took on the leading roles and Year 3 took on the parts of the dancing Jitterbugs. We performed two after school performances to parents. The performances were a huge success, even having some teachers, who watched the performance commenting that it felt like watching something on the 'West End'. Mr Woollhead was extremely proud of how accomplished the performances were and it has definitely made lots of Year 4 very keen to be involved in drama more next year.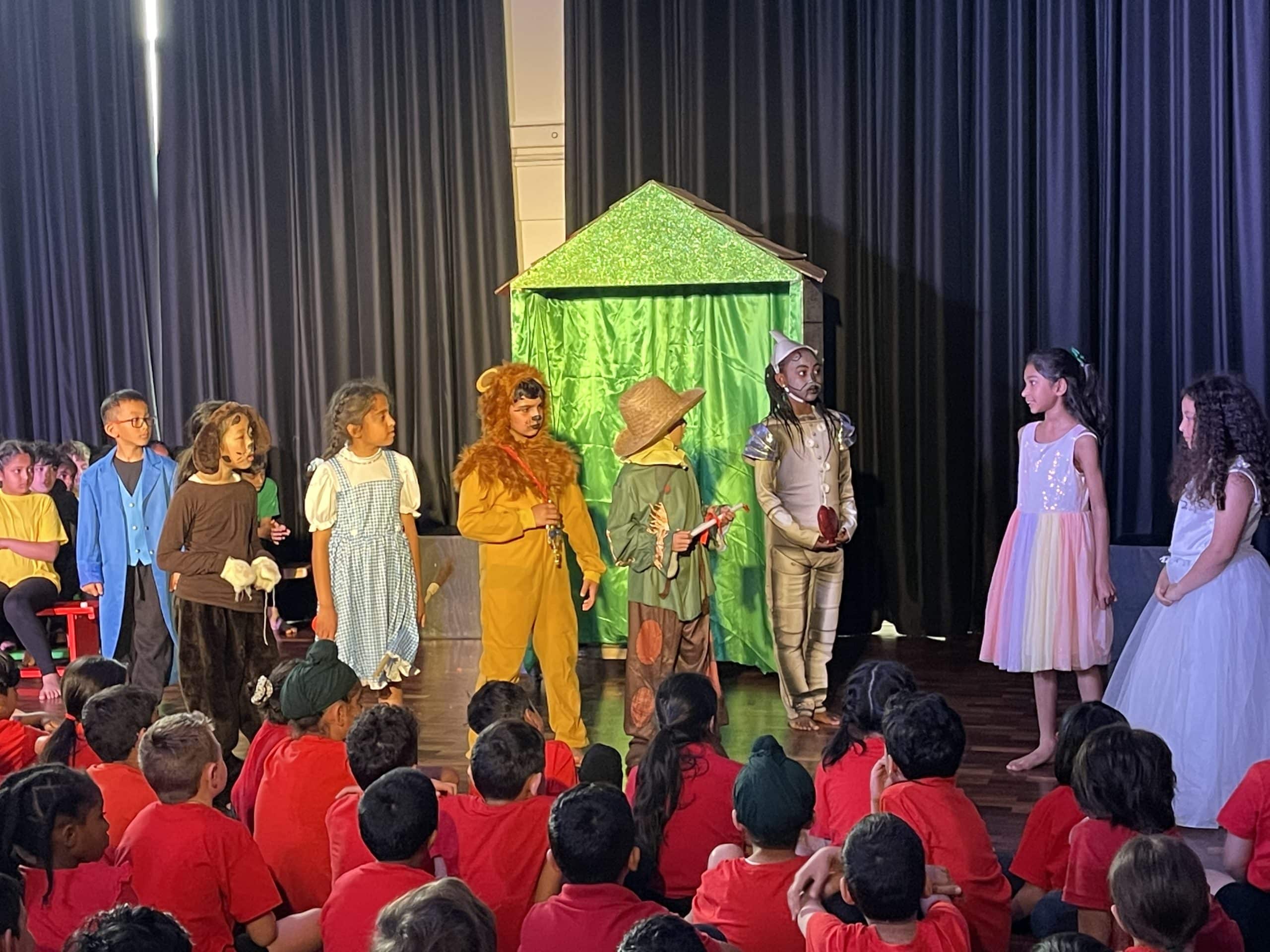 Mr Woollhead, Head of Drama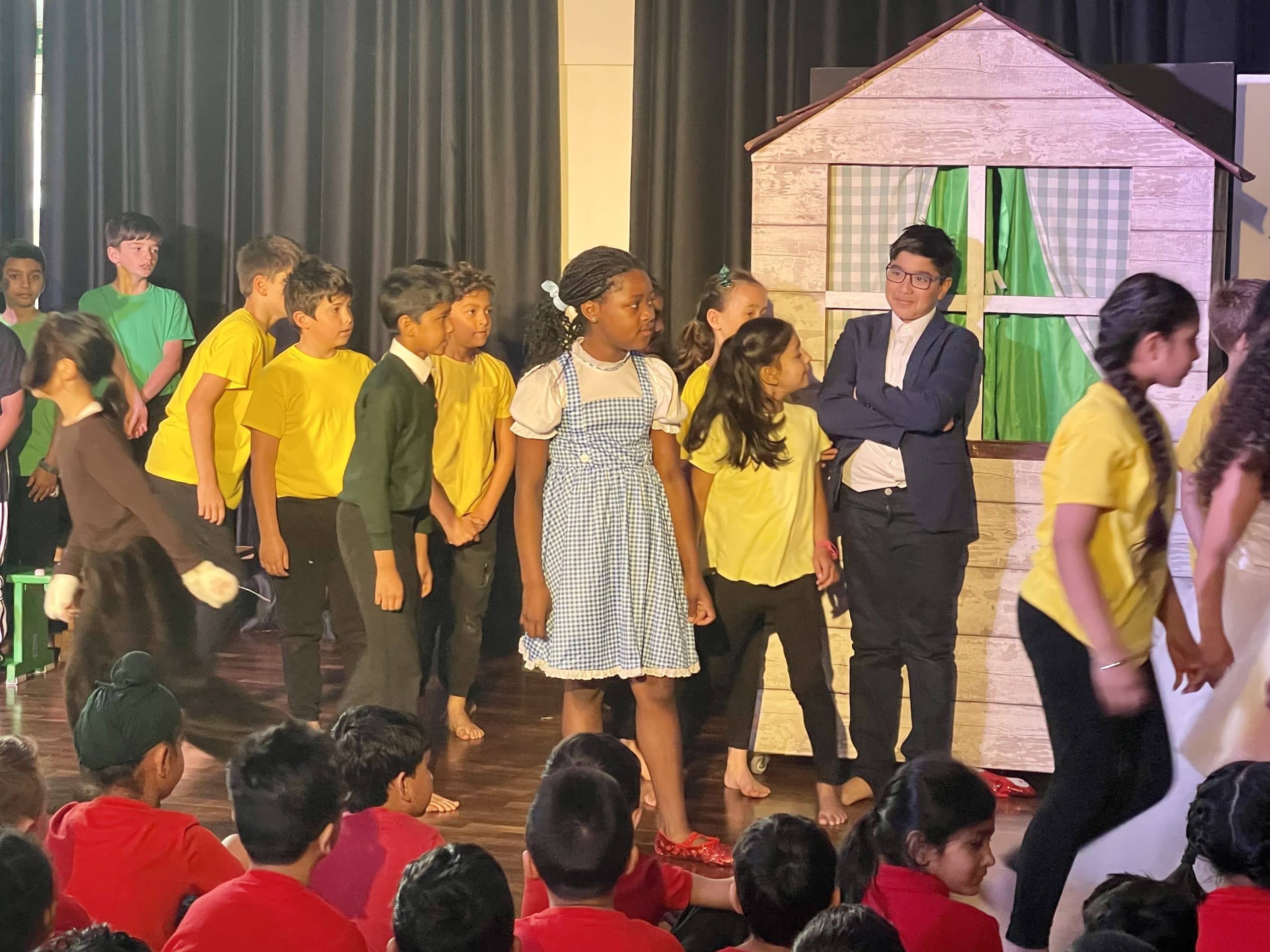 | | |
| --- | --- |
| Ibraheem | Professor |
| Asim | Winky / Ozian Guard / Tin Man Dancer |
| Idrees | Crow / Cyclone / Winged Monkey |
| Zahra | Crow / Cyclone / Winged Monkey |
| Zakariya | Winky / Ozian Guard / Tin Man Dancer |
| Olivia | Munchkin |
| Aisha | Winky / Ozian Guard / Tin Man Dancer |
| Shadman | Munchkin |
| Rocco | Munchkin |
| Mani | Winky / Ozian Guard / Tin Man Dancer |
| Thomas | Tree |
| Hana | Glinka |
| Oscar | Winky / Ozian Guard / Tin Man Dancer |
| Matthew | Winky / Ozian Guard / Tin Man Dancer |
| Alexander | Crow / Cyclone / Winged Monkey |
| Dhiryn | Crow / Cyclone / Winged Monkey |
| Joshua | Guard |
| Rohan | Winky / Ozian Guard / Tin Man Dancer |
| Mary | Tree |
| Ellen | Auntie Em |
| Zia | Crow / Cyclone / Winged Monkey |
| Hamzah | Crow / Cyclone / Winged Monkey |
| Hayat | Munchkin |
| Aisha | Winky / Ozian Guard / Tin Man Dancer |
| Ibraheem | Munchkin |
| Dhyan | Zeke |
| Sahiba | Munchkin |
| Darrone | Coroner |
| Lamiya | Glinda |
| Krish | Winky / Ozian Guard / Tin Man Dancer |
| Hanson | Munchkin |
| Kai | Scarecrow |
| Jai | Crow / Cyclone / Winged Monkey |
| Yousef | Crow / Cyclone / Winged Monkey |
| Ayansh | Winky / Ozian Guard / Tin Man Dancer |
| Anshi | Crow / Cyclone / Winged Monkey |
| Siona | Oz Woman |
| Lucilla | Dorothy |
| Humaira | Tree |
| Parvaan | Winky / Ozian Guard / Tin Man Dancer |
| Hasan | Mayor |
| Marcus | Wizard of Oz |
| Annie | Tin Man |
| Kathryn | Dorothy |
| Anya | Dorothy |
| Amelia | Nikko |
| Ayaan | Crow / Cyclone / Winged Monkey |
| Krish | Munchkin |
| Dhiya | Munchkin |
| Ansh | Lion |
| Ismy | Hickory |
| Siyona | Crow / Cyclone / Winged Monkey |
| Mylo | Winky / Ozian Guard / Tin Man Dancer |
| Ethan | Munchkin |
| Ruben | Crow / Cyclone / Winged Monkey |
| Ruby | Crow / Cyclone / Winged Monkey |
| Henry | Barrister |
| Kieran | Hunk |
| Mark | Uncle Henry |
| Hari | Doorman |
| Jai | Doorman |
| Avni | Munchkin |
| Mohsin | Munchkin |
| Mia | Toto |
| Yiran | Witch |
| Emily | Miss Gulch |
| | |
| Jitterbugs performed by pupils in Year 3 | |