Sports roundup – Friday 7 October
Monday 3rd October   U10 A Having taken an early lead in the game West house fought back and managed to get the…
Monday 3rd October  
U10 A
Having taken an early lead in the game West house fought back and managed to get the equaliser with 5 minutes to go. With Hallfield pushing for the winner, West House struck again to make the final score an agonising 2 – 1 to West House.
U10 B,C and D
In all these matches the boys tried hard and there were some good play in patches but leaking defences meant that West House scored a few more than us in each game. Hopefully we can rectify our mistakes for the rematches at Hallfield after half-term.
Tuesday 4th October
U9A vs Wolverhampton A, loss
On Tuesday the U9A girls team had a tough but thrilling match against Wolverhampton Grammar School. Throughout the game, the girls put up some strong block tackles especially Aila and Yueqi (our defence duo) who prevented the opposition from passing the ball through the centre of the pitch and into their attacking D whilst also making then work harder to attack with the ball. The girls on the wing (Aisha, Sophie and Saffron) also played some excellent shots up the pitch as part of an attacking drill we had worked on previously in games lessons which played to our advantage wonderfully. On multiple occasions we were close to getting a goal with Eve and Daya putting some great passes into each other however the opposition had a very strong defensive side. Our goalie Aman, worked tirelessly to prevent multiple goals from being scored.
Although the outcome of the game wasn't what we wanted, we were very impressed with the level of play the girls performed at! Well played girls!
U9B vs Wolverhampton B, 1-1 draw
The U9B won the toss and started the fixture with the first push back. Wolverhampton started off strongly and were soon on the attack for a lot of the first half. Our defensive team of Leila, Eesha and Nicole put in some excellent tackles but our opposition managed to sneak 1 goal past us. Freya was a strong force throughout the match, ensuring she put in lots of tackles against Wolverhampton and made some great passes out to Reet, Jiya and Aya on the wings. At half time we were 1-0 down and had a team talk about spacing and going for runs with the ball. Wolverhampton came in with another attack but our GK Sylvie did an excellent job of kicking away any attempts at goal. We were soon on the attack, managing to get the ball down to our wings and Mia in Centre Forward and it was our turn to attack. We had quite a few chances in the D and finally the ball ended up in the back of the goal after an entanglement of tackles between Wolverhampton and Hallfield. The match finished as 1-1 and Freya was voted as Girl of the Game. An excellent first experience for our girls and they showed a lot of promise. Well done!
U9 A team v West House
U9 A team lost 3 goals to 1 after a competitive game against West House. West house took an early 2-0 lead which made it difficult for Hallfield to get back into the game. The second half was much closer and Arjun Bassi scored a wonderful solo goal.
U9 B team v West House
A close game of football this afternoon saw the B team beat West House 3-2 with late chances for both teams to score in the second half. Some great team goals scored and both teams worked extremely hard to regain possession when they lost the ball.
U9 C and D teams
These were two good games but in each one West House managed to come out on top. Well tried everyone.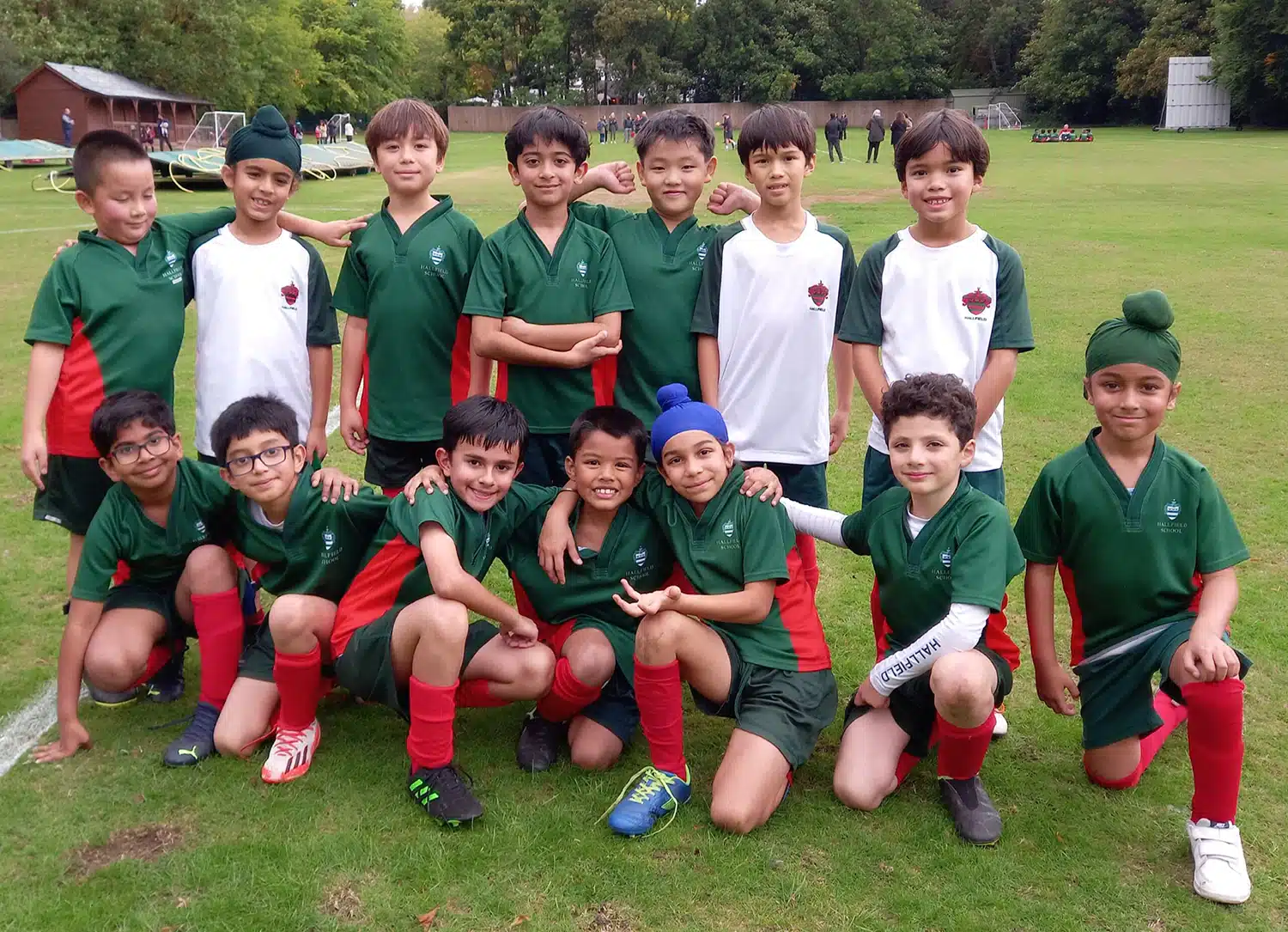 Wednesday 5th October
U11A
In a tough game against a strong West House team the boys tried hard but were beaten by a better team.
U11 B team
The B team started really strongly with some really good passing in the middle linking the attack well and had some good shots on target. Defence was looking solid and there were some excellent shots stopped by our goalkeeper. West House found a way through and scored two goals well. We started the second half strongly and started linking play well again, finding ourselves with some close efforts from range but one more goal sealed the score at 3-0 to West House. Tremendous effort and on a different day, the score could have been very different
U11 C, D and E
All the boys in Year 6 enjoyed the opportunity to play a fixture and it was good to see so many teams out. Unfortunately West House were a bit stronger in each match but the boys came off the pitches looking forward to the return matches next half-term.
Thursday 6th October
U8A
In a nail biting first half Hallfield and West house both teams moving the ball around well and the result looked in the balance. In the second half the game opened up a bit more and Hallfield managed to use the space better. Kyran ended up scoring a hat-trick and Layth added a fantastic goal to make the final score 4 – 2 to Hallfield. But it is not just about scoring goals and Giaan made some great saves in goal, the defenders, George and Adam were resolute and the Walji boys were everywhere!  Well done to every player on a great game.
U8B
In an exciting first half, both West House and Hallfield had scored an own goal! In the second half Hallfield managed to make their possession of the ball count with some excellent passing to score two more goals. Ishaan, Ali A, Harman and Mekaeel were all over the pitch using their speed and skills to good effect. Ali-Shabbar and Huffaddal were rocks in defence meaning that Ehren did not have to do much in goal! Well done to everyone on a great win.
U8C 
With huge excitement the U8C took to the pitch and were buzzing around the pitch. With some great pressure on their opponents, Hallfield managed to score 3 goals to West Houses one. A fine win boys, well done.
U8D
This was the most exciting game of the year! Both teams scored a goal, and both had chances to score a second right up to the final whistle. However, the elusive goal never came, and the honours were shared. Well done to every player!