Speech and Prize Giving Day 2022
On Wednesday 6 July 2022, we held our annual Speech and Prize Giving Day.
On Wednesday 6 July 2022, we held our annual Speech and Prize Giving Day to celebrate the end of another successful year at Hallfield, the wonderful achievements of pupils across the school and to say farewell to our Year 6, and for the first time Year 8 leavers.
The event was at the impressive Great Hall at the University of Birmingham. This historical Grade II-listed building provided the perfect backdrop to welcome pupils, parents, teachers and governors to mark the memorable occasion.
Guests entered the hall to a jazz-style rendition of Fly Me to the Moon. This was followed by a medley of space-themed songs, beautifully sung by all children from Year 1 to Year 8. These songs were chosen as a nod to our Guest of Honour, astronaut Dr Robert Thirsk.
The opening remark and introduction was from Vice Chair of Governors, Mrs Sharon Stotts. As we go about our busy lives, she reminded parents to protect the next hour and take the time to sit back, enjoy and absorb the atmosphere.
Head Master Keith Morrow followed with a reflective address that looked back on everything that had been achieved at Hallfield over the last year. From the opening of new facilities such as The Creative Cottage and Foundation Building and our partnership with Simpsons Restaurant; to our Hallfield Insights event series. There were so many fond moments from the year such as drama productions and excursions in the UK and abroad, it's hard to believe so many things were packed into a single school year.
He concluded with a heartening message: "Enjoy your successes as well as your ambitions and remember, the world is a wonderful place."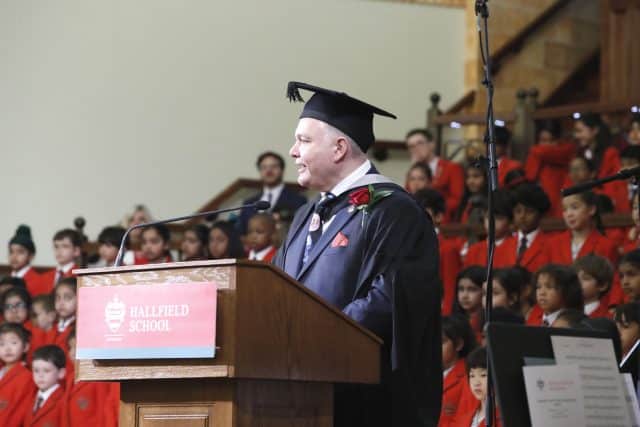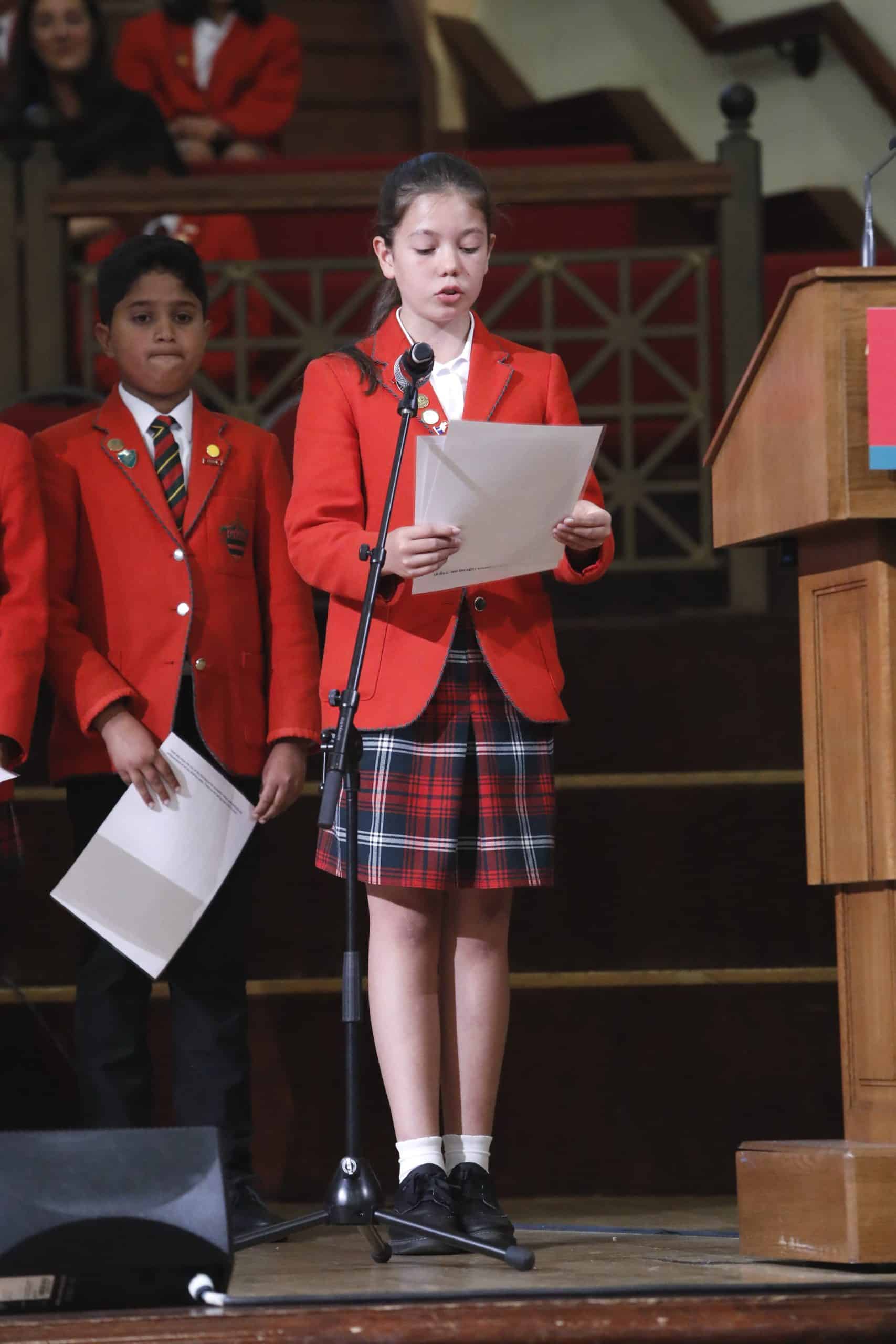 Riyaan Haq (Head Boy), Elizabeth Webster (Head Girl), Aryan Parmar (Deputy Head Boy) and Isha Hejmadi (Deputy Head Girl) all did an incredible job of sharing their experiences and memories from their time at Hallfield. It was touching to see how impactful their time at Hallfield had been on their future trajectories.
Aryan said: "The opportunities and activities I have been given at Hallfield school have been phenomenal. Hallfield has shaped me as a person. I have been exposed to amazing teachers and I have made so many friends, all of whom have influenced me in a positive way."
Isha said: It's my final year of Prep that I will cherish forever.  I would like to thank all the teachers who have selflessly planned fun lessons for us to enjoy. We appreciate the hard work that the teachers put in to organise the memorable school events which will remain with us. As we move on to the next chapter of our lives these lessons will have played a big part in our thinking and how we look at the world around us.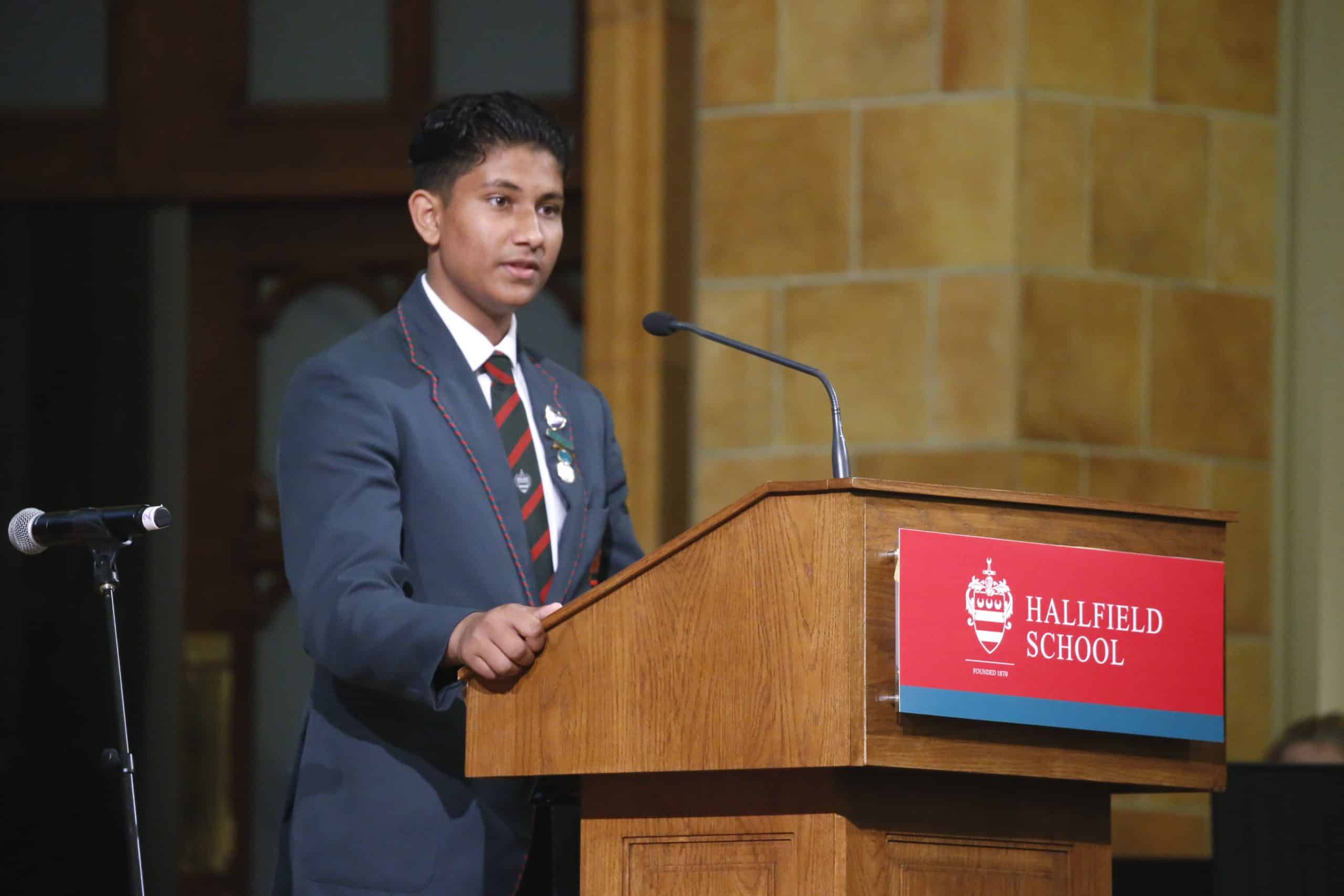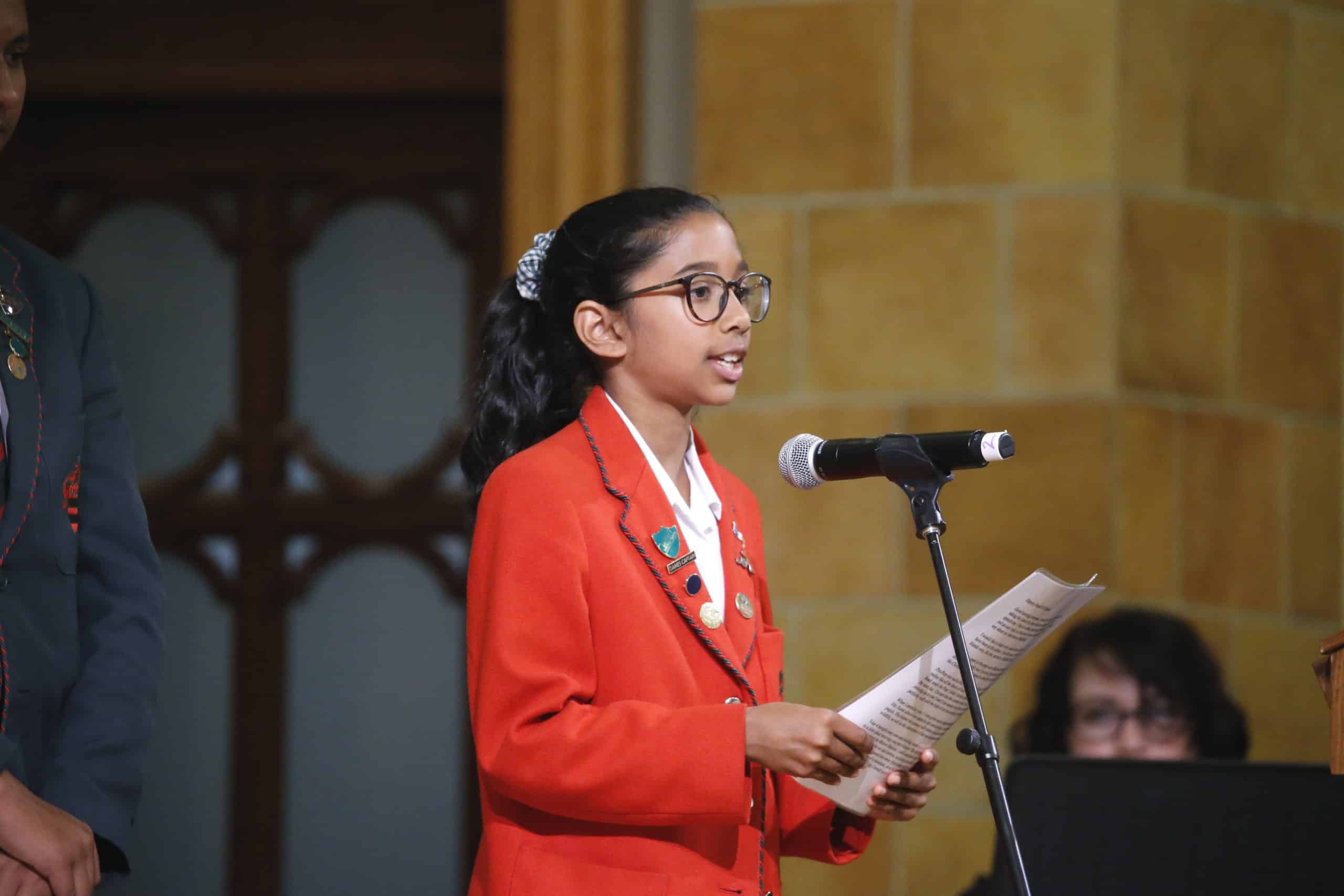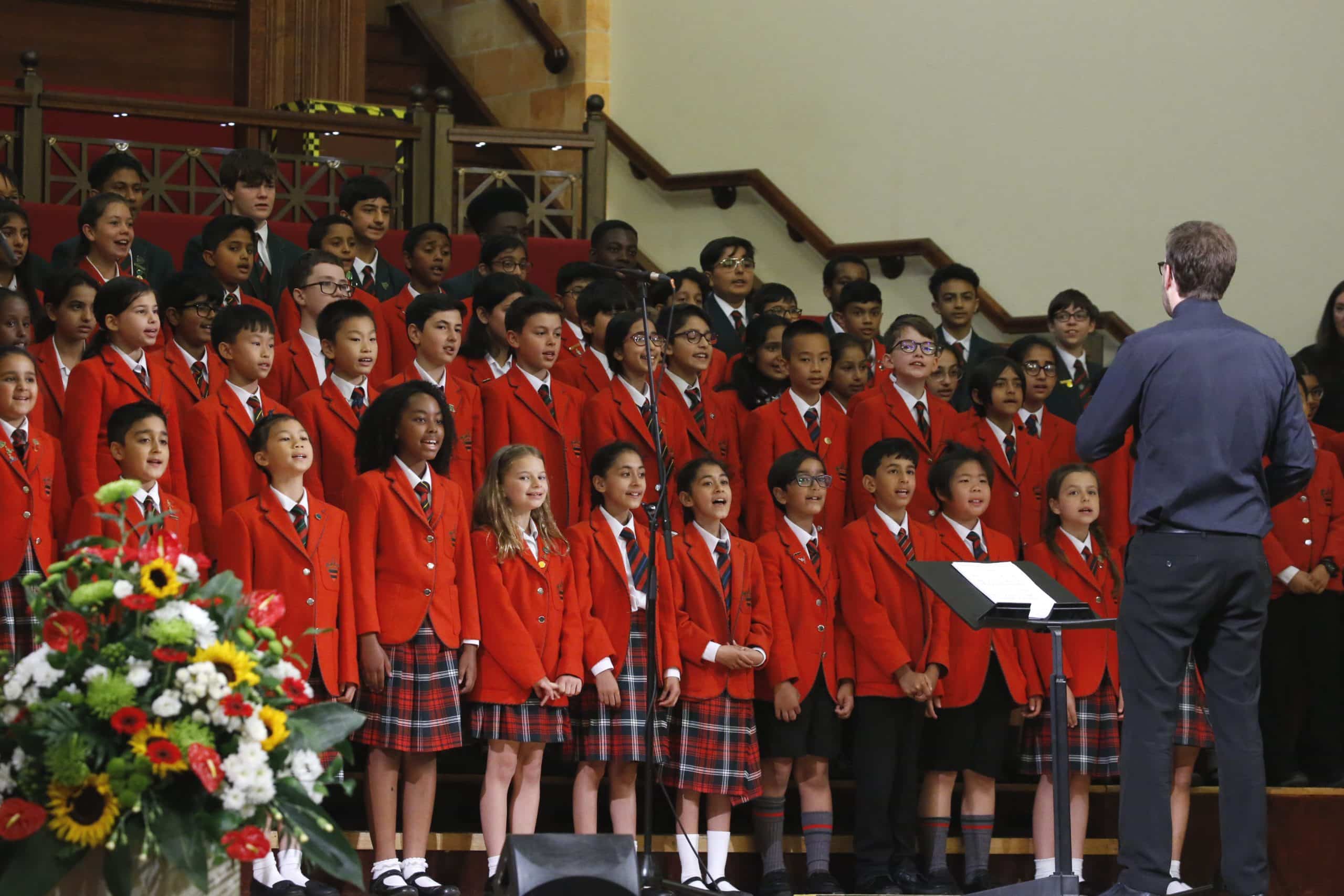 Dr Robert Thirsk was the final address ahead of prize giving. We were so lucky to have him. As Sharon pointed out, 6 billion people live on the planet and only 600 have ever gone into space, so to be in the presence of an astronaut is quite extraordinary.
Dr Bob's speech was full of inspiration as he shared his story of how he first wanted to become an astronaut at just 8 years old, to the characteristics and skills needed to turn that dream into a reality. He then shared what he believes are the three characteristics needed when in pursuit of a successful career:
Choose a profession you're good at
Choose a profession you enjoy
Work to make the world a better place
He concluded with how he believes the next generation is likely to find a cure for cancer and land on Mars and how he hopes his contributions throughout his career have paved the way for that kind of progress in the world.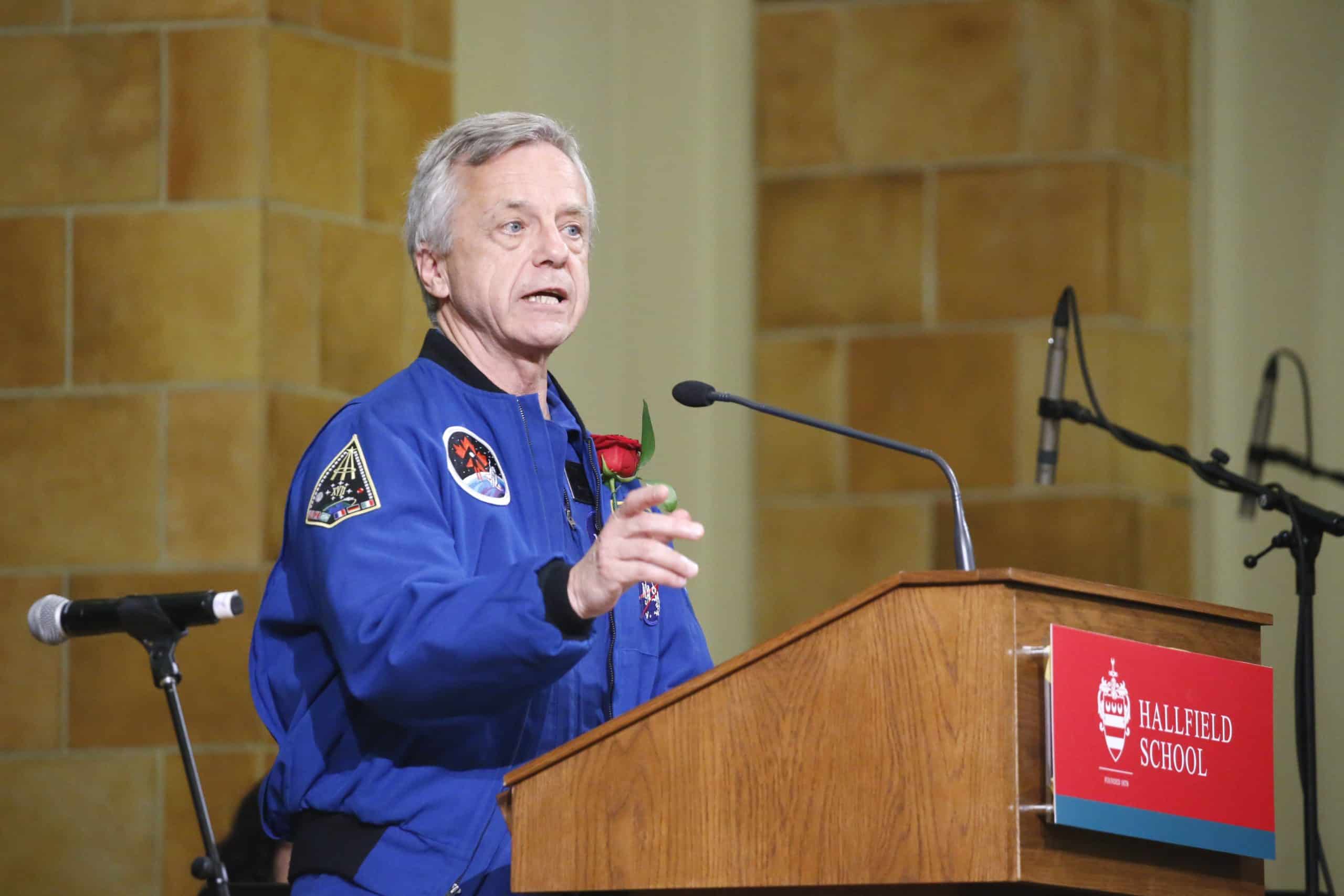 Finally, prizes were given to individuals across the school. A sea of proud faces swept the room and the children looked overjoyed at their own achievements and their peers.
We wish all our leavers the very best of luck as they go on to their next venture. You have made Hallfield extremely proud and we hope you take with you a lifetime of memories.