Simpsons return for an exciting programme of culinary learning
Hallfield School and Simpsons restaurant, partner up once again for an exciting programme of culinary learning.
Category
#Special Feature
School
#Seniors #Prep #Whole school
We are delighted to announce that the team at Simpsons' and their cookery school, Eureka Kitchen, will be running a programme of culinary lessons at Hallfield School throughout the summer term. Pupils in Hallfield Prep and Hallfield Seniors will have the opportunity to develop their food knowledge and cookery skills under the tutelage of Rachel Tokitsu, Teacher at Eureka Kitchen.
Rachel will take our younger pupils on a journey of discovery where she will show them how to use their senses to gain a better appreciation of food and to try new things! Year 5 upwards will have the opportunity to enhance their cooking skills with simple recipes they can make time and time again. Our senior pupils will be learning how to fillet a fish!
This is a unique and exciting opportunity for our pupils to have food technology lessons with the best in the industry.
3 May – Food discovery and sensory session, Year 3
10 May – Food discovery and sensory session, Year 4
17 May – Nutrition, sensory and cooking, Year 5
7 June – Healthy ice lollies, Year 6
14 June – Fish 'n' chip supper, Hallfield Seniors
21 June – Chocolate making, specially selected gifted and talented pupils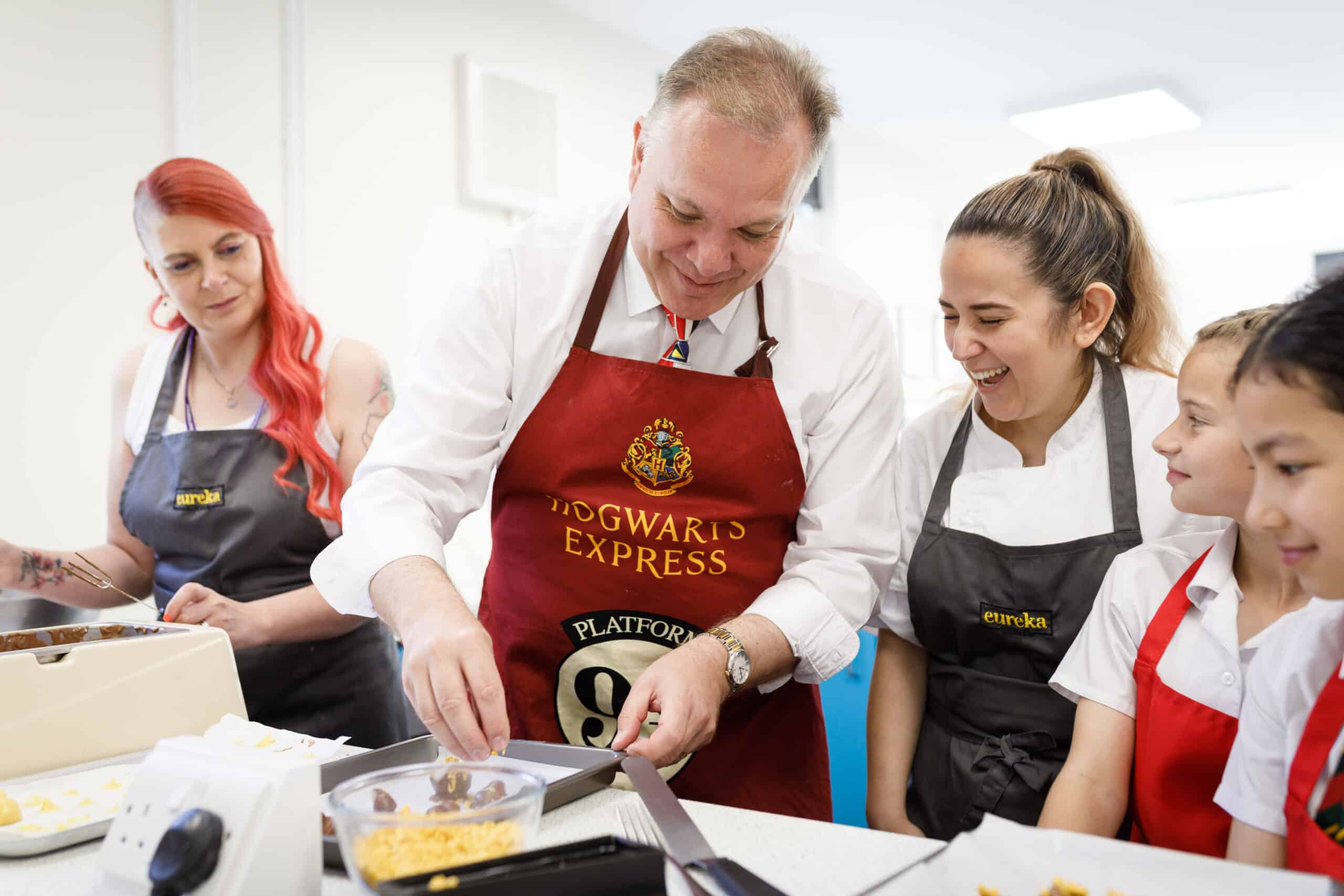 Rachel Tokitsu, Teacher, Eureka Kitchen
Easter challenge
Hopefully, you will have seen that we have sent home an Easter Mini Eggs Cupcake Recipe for the children to have a go at baking over the holidays!
We heartily encourage you to share your efforts on social media and tag:
#hallfieldcookswithsimpsons
@HallfieldSchool
@KitchenEureka
We look forward to seeing your delicious bakes!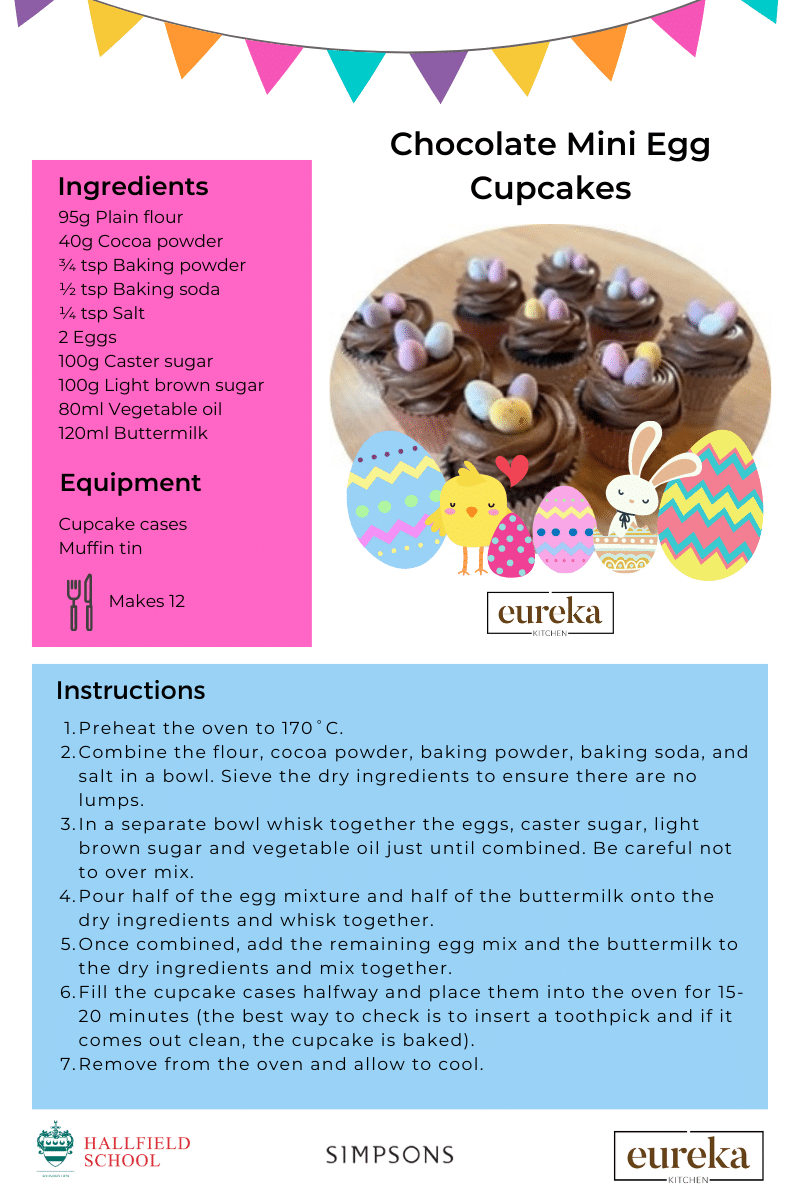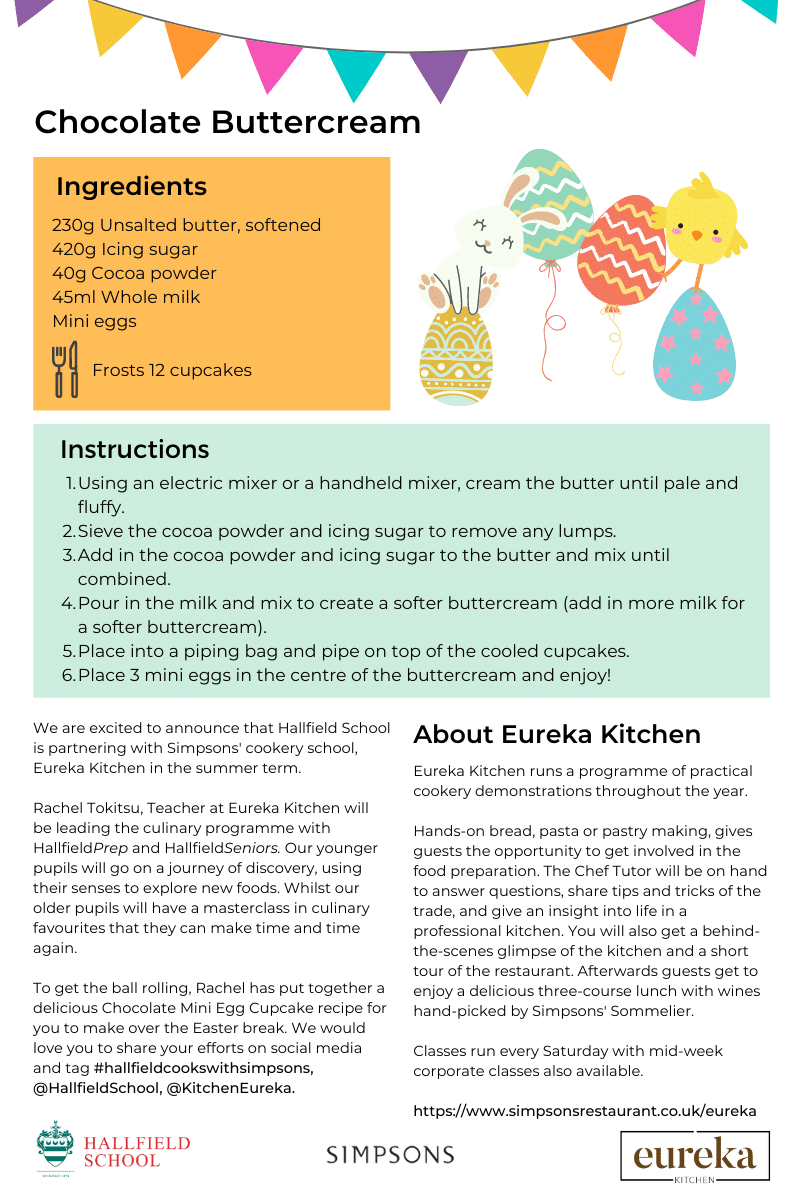 About Eureka Kitchen
Simpsons Eureka Kitchen combines practical cookery demonstration from our Chef Tutor with lots of hands-on experience.
Guests can enjoy a behind-the-scenes glimpse of the kitchen and a short tour of the restaurant. Up in the Eureka Kitchen, guests will be provided with an embroidered 'Simpsons Eureka Kitchen' apron, and more information regarding the day's activities.
The day might also include hands-on bread, pasta or pastry making, giving guests an opportunity to get involved in the food preparation. The Chef Tutor will be on hand throughout the day to answer questions, share tips and tricks of the trade, and give an insight into life in a professional kitchen.
Enjoy a delicious three-course lunch and wines hand-picked by our Sommelier.
The Simpsons Eureka Kitchen is a relaxed, fun and informative experience, which hopefully gives those involved the confidence to try something different and more creative at home. The day is a great opportunity to learn from the professionals, but also a chance to meet new people and enjoy good food and wine.
Classes run every Saturday. Mid-week corporate classes are also available.
Visit our website for more details or call our team today
W: https://www.simpsonsrestaurant.co.uk/eureka
T: 0121 454 3434