Di Xiao launches Hallfield Insights talk series
On Thursday 3 February, our Prep Hall was graced with 'pianist of awesome gifts' Di Xiao, as she entertained guests at our inaugural Hallfield Insights event.
Published
4 February 2022
Category
#Special Feature
Di started her musical journey at the age of 4 in Guangzhou, when her father sold his motorbike to buy Di her first piano. Her family were not musical but wanted to offer Di opportunities that they had not had. Little did Di and her family know that this would be the start of an acclaimed musical career that has seen her play in some of the most iconic concert venues in the world. Success has taken hard work and determination, with Di practicing for 6-8 hours per day during her childhood. Di fell in love with the music and realised what amazing opportunities were ahead of her, making the hard work easy.
Head Master Mr Morrow interviewed Di Xiao. Watch the full video:
While sharing her journey from East to West with the Hallfield Insights audience, Di included many musical interludes playing songs by Grieg, Sibelius and her own composition, Green Mountain.
Fluent in English, Mandarin and Cantonese, Di cites the language of music as the most powerful as it is the only one that requires no translation and can connect people and help us understand each other. In a recent interview with classical music magazine, Gramophone, Di said:
Speaking with Hallfield Head Master Keith Morrow before the performance, Di had some valuable advice for aspiring musicians: "You need to enjoy music because the practice needs discipline. Start with little steps and try to start with something you enjoy like a nursery rhyme. Try to find it on a piano, then you can hear something familiar and recreate it. I think it's the desire you need to bring out. Once you start you will become hooked."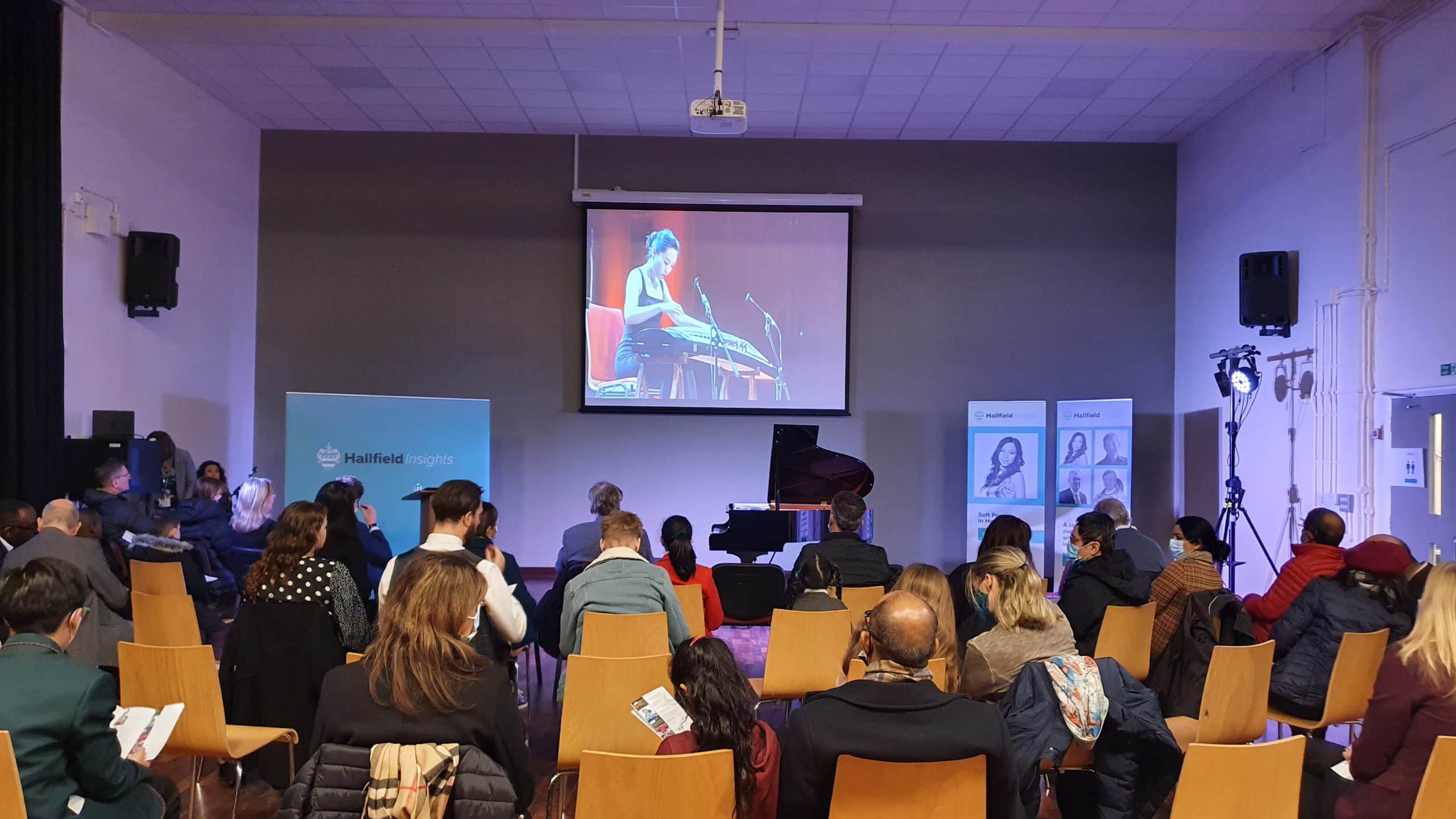 For their time, Hallfield is donating £1,000 to the speaker's charity of choice. Di chose Help Musicians – an independent, UK charity that helps musicians at crucial stages that can make or break their career.  Anna Pickering, Fundraising Assistant for Help Musicians said: "It is always nice to see people share their love of music and the importance of it too. I am so honoured to hear that we were chosen; your support means everything to us."
Di's article in Gramophone can be read here. You can also watch the Didi and Friends Lunar New Year Concert.
Hallfield Insights brings together interesting and inspirational individuals from a range of sectors including the arts, law, medicine, politics and science for an evening of engaging conversion. Full details of forthcoming Insights talks can be found on our events page. Talks are free to attend and open to the general public.